25 October 2023
Get involved with our newest CAS Thematic Communities
Expand your knowledge, share experiences and make connections at our new thematic CAS Communities.
Our ten new exciting thematic communities are vibrant groups which aim to share experiences and techniques for teaching computing in the classroom, introduce new methods and practices to the teaching of computing and provide a platform for discussion and improvement.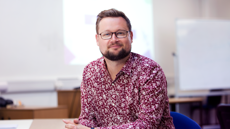 "CAS Communities are where our members share inspiration and great initiatives. They're the heart of CAS and we're so pleased to be expanding the range on offer. Our communities are vibrant, welcoming groups and we'd love you to join us, get involved and share your ideas and knowledge."
- Dr Jon Chippindall, CAS director.
We have and will be scheduling events within each of these groups, so visit the community pages to learn more and book your place.