Welcome to the CAS Interactive 3D Community.
This community focuses on technology enabling digital interactive 3D experiences. This community is brought to you with our friends, the Epic Education Program team at Epic Games.
This community will schedule a programme of events across the year covering the exciting world of 'interactive 3D'; the group will have the broad aims of:
providing professional development on the use of Unreal Engine in schools
signpost and engage with free Epic Education Program initiatives modified for UK schools
encourage community-driven cocreation and sharing of resources around interactive 3D in schools
This community is run by Dr Jon Chippindall with support from Steve Isaacs Education Program Manager at Epic Games.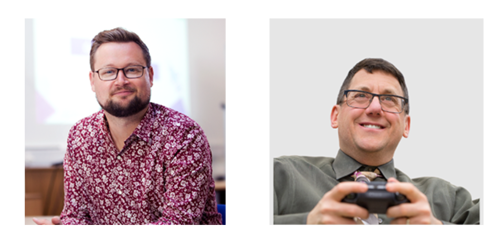 Steve is an educator with over 25 years' experience; he is a leader in the area of Game Based Learning and teaching Game Design and Development. Jon splits his week between teaching computing to key stage 2 at a primary school in Manchester and leading CAS as Director.
Become a part of the community
Links
Unreal Engine 
Build a virtual Rude Goldberg Machine in Unreal Engine Course