13 December 2021
Code your own Christmas Cards Lesson!
Code your own Christmas Cards Lesson!
eraseallkittens.com/hackable-cards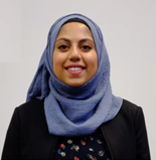 Head of Computing at School 21, Tasneem Patel, introduces a fun one-off FREE lesson for KS3 for the end of the Winter term.
Erase All Kittens' online Hackable Cards lesson gives learners the opportunity to code and share a personal festive message with friends and family. Deliver this lesson which requires zero preparation over the next two weeks, for some cheery coding and encourage independent, autonomous learning which supports the Computing curriculum at KS2 to KS4.
Ensure that your school network is set to access eraseallkittens.com/hackable-cards and get started!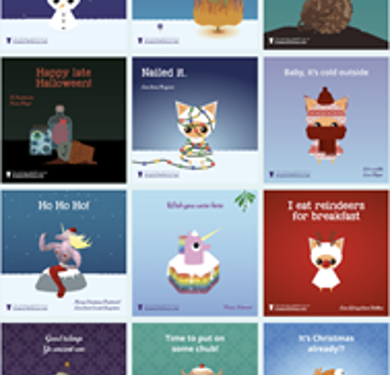 In this lesson, learners can remix 12 different, quirky Christmas cards using HTML and CSS!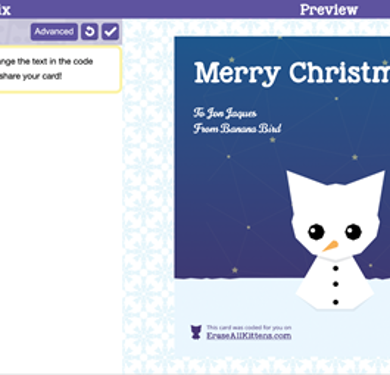 Within the Erase All Kittens (E.A.K.) online learning environment each card window offers a code editor on the left hand-side with a preview on the right-hand side.
Changing the black text in the script means learners instantly see the visual effects of their coding modifications as they appear on the card.
HTML and CSS: Coding in 'Basic' mode offers a fun introduction to HTML syntax such as body, headers and paragraphs. When they're happy with their designs, learners simply click to share their card via social media and/or email.
Using the 'Advanced' mode, means learners go on to hack the card's Cascading Style Sheets (CSS) - changing the font size, type of font and background colours, and text-alignment on the card. The card images aren't replaceable, meaning teachers do not need to monitor learners as they trawling the internet for relevant and correctly formatted images! Instead, learners can focus on developing their coding skills whilst teachers circulate to ensure the card messages remain polite and friendly!
Learners can intuitively investigate the fonts or they can be given web-friendly fonts. Fancy fonts such as Norican, OpenSans, KGNextToMe and are incorporated into the cards. Learners can also use additional fonts such as: Arial, Verdana, Helvetica, Tahoma, Trebuchet MS, Times New Roman, Georgia, Garamond, Courier New, Brush Script MT.
The Advance mode provides a useful moment to discuss layout using headers and paragraphs Printed newspapers, magazines and web pages provide really useful examples.
Hexadecimal: Access to a hex colour code website means learners will have more control over their chosen background gradient colours - color-hex.com. Alternatively, learners can play with the given values for a random selection. This lesson really promotes exploration and exercises their digital literacy skills!
The lesson provides a fun, light-byte (you see what I did there!) way into binary and hexadecimal for the future. Hexadecimal can be implemented without a background understanding of its significance but for teachers looking for a recap on hexadecimal, BBC Bitesize offers a superb summary here.
Workforce skills: The Hackable Cards lesson aims to inspire and skill up the next generation for the future workforce. With the huge and growing demand for Web Developers, this lesson gives players an early insight into a career available to them. Working with HTML and CSS, they learn how to code like a developer and grow their computational thinking skills towards potentially working in the Tech Sector whilst also developing some 21st Century Skills such as critical thinking, creativity and problem solving.
The innovation foundation, Nesta, produced The Future of Skills: Employment in 2030 report that signals that one of two new predicted occupations is an "immersive experience designer, who combines creative and tech-based skills". The Hackable Christmas Card lesson provides the perfect environment to discuss with learners the skills that may be required for a future workforce. Visit here to aid a fun classroom discussion on new job types that don't exist yet. With growing Artificial Intelligence (AI), teachers can stimulate conversation about the role of humans and why it's important they understand technology even if they do not plan to work in the Tech Sector.
Learning by doing: Dee Saigal, E.A.K.'s Co-Director, explains how their learning environment follows the PRIMM (Predict-Run-Investigate-Modify-Make) approach to teaching programming: "Many students find it challenging to begin to write a program from scratch. E.A.K always offers some existing code rather than the usual blank text document which is a key aspect of PRIMM - learners predict what the code does when it's run, investigate it and then adapt it". More information on the PRIMM teaching approach is available from ​​​​primmportal.com.
Saigal goes on to explain: "The one-hour Hackable Christymas Card lesson is based on E.A.K.'s learning environment. It's a highly gamified and story-driven approach. Used by teachers in over 3,000 schools worldwide, it's an easier and more efficient method of delivering code education."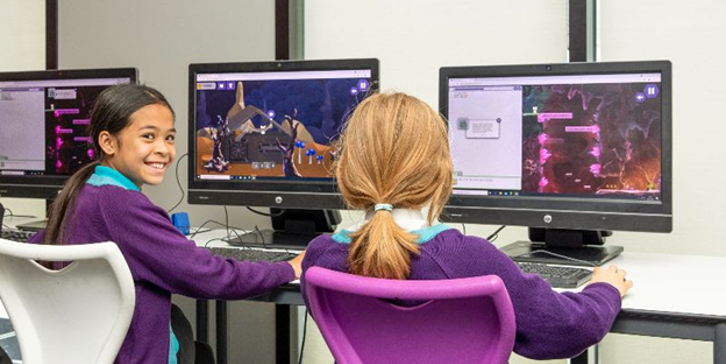 Coding using narrative: Storytelling, playful, character-driven learning environments have been shown to broaden engagement, especially for girls. With E.A.K, young people change the code of the game, in order to build and fix levels as they play. It is the only available narrative coding game designed for young people and offers a notably original approach to teaching and learning to code. Founded by Dee Saigal and Leonie Van Der Linde, Erase All Kittens has won a range of awards including the Digital Woman of the Year and European Ada.
Please share your card with the E.A.K community using the hashtag #EraseAllKittens. Link to @EraseAllKittens and feel free to send us a message.
Additional cards celebrating other religious and cultural festivals will continue to be released in 2022.
Find out more about Erase All Kittens: eraseallkittens.com. Teachers can trial the game here.
Join E.A.K's newsletter for updates on new releases for the E.A.K news here.
To access the Hackable Christmas Card online tool go to: eraseallkittens.com/hackable-cards.