30 May 2023
Barefoot in Action
We spoke with Ben Davies, a Key Stage 2 teacher and ICT lead from St Paul's Primary School in South Manchester, about his experience of using Barefoot Computing materials with his staff and pupils. Here's what he had to say…
Barefoot has been written by people who understand children and how they learn and understand what primary classrooms are like. 
It's very user-friendly and not overly complex in its language and is written in a way that's friendly and welcoming. 
I've been teaching using Barefoot resources for six or seven years since the new computing curriculum was introduced in 2014. At that time, I was also upskilling other staff and Barefoot became my first port-of-call for staff new to teaching computing. 
Our school roll is very diverse in terms of faith, ethnicity, and socio-economic background and we welcome children with a variety of needs to our school and have good resources to support children with SEND. It works well and it's a very harmonious school. 
I think that there are many children who have received a wider computing experience, especially regarding algorithms and programming, because of Barefoot. 
Resources are also relevant and inspiring. In 2021 Barefoot released KS1 and KS2 resources that linked to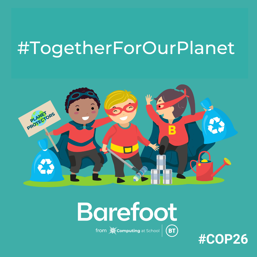 COP 26 and tackling climate change. We were looking for ways for our children to be active citizens and we used these resources to also create videos with our Upper KS2 children.  
Our children recorded questions that would be played to policymakers at COP 16 in Glasgow. It was such an inspiring project for them and helped us to apply for our Eco Schools Green Flag award and our Unicef Children's Rights award. 
It was fantastic for our school and children, and they were so inspired by producing something for a real audience. 
The children really enjoy computing and they find it empowering, and the Barefoot resources also develop 'soft skills' like collaboration and teamwork. You really do get the children to see that tech is a tool to be used to solve problems in all aspects of their lives.
Developed by teachers and backed by research, Barefoot helps boosts primary teachers' subject knowledge, saves them time and brings computing to life in the classroom. Find out more and create a free account at on the Barefoot website to access:
Lessons
100+ cross-curricular lesson plans and engaging resources, bringing computing to life in the classroom – with or without a computer.
Delivered by experienced volunteers via webinar, Barefoot workshops make it easy for schools to get started, giving them confidence in using Computational Thinking and Programming in Scratch.
A number of helpful online guides which help primary teachers quickly and easily improve their computer science subject knowledge and confidence, with clear definitions and examples. Always jargon-free!