20 May 2022
Children are the Cyber Security Experts of Tomorrow
Being both digitally competent and cyber security aware are essential pillars of our young people's education - bulk upload your students and track their progress with an easy to use dashboard.
Cyber Explorers is a free, interactive online learning platform and the perfect addition to your classroom. Complementing learning objectives for Key Stage 3 in England, Wales and Northern Ireland, S2/S3 in Scotland, students will learn how to use technology safely, respectfully, and responsibly.
New episodes have now been released, alongside new characters!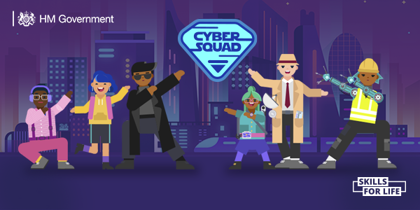 Make cool content…
Join Sam Downtown as she creates content to help Cyber City Animal Rescue.
Hit the track…
Join Jordan at The Sports Centre as he trials new techniques for Olympic cycling.
Grow a business…
Join Joseph at The Design Studio as he creates his own brand.
Find a cure…
Join AJ at The Medi-Tech Centre as he explores how augmented reality can help surgeons.
Fight climate change…
Join Zamia at Strawberries Tech Headquarters as she tries to make her company greener.
During this action-packed episode, Cyber Explorers will be introduced to digital footprints and OSINT (Open-Source Intelligence), whilst also seeking help from the knowledgeable Cyber Squad and Cyber Ranger while on their adventures!
Keen to find out more? Head to our Cyber Explorers information page now where you can register your classes for this free interactive online learning.
Sign your students up today.