29 April 2022
Micro:bit Educational Foundation launches new primary resources
The micro:bit makes it easy to introduce computing concepts to primary age children. It's great for simple, tangible introductions to what digital/computing technologies are and how they work. The new micro:bit primary offer provides the support and resources teachers need to teach the primary computing curriculum with micro:bit in England, Scotland, Northern Ireland and Wales.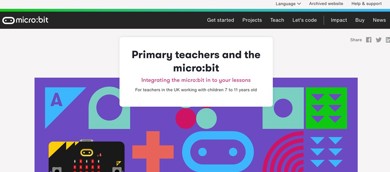 Alongside the support and resources offered through the new Teach part of the micro:bit website, there is a dedicated learning platform for professional development for teachers. On this platform is a series of courses featuring short and friendly videos covering a range of computer science concepts. These courses blend topic overviews with practical ideas for teachers to use in their classrooms. Through teaching guides and step-by-step coding videos, teachers should have everything they need to confidently share micro:bits, programming and computational thinking with their learners.
Find out more about the Micro:bit Educational Foundation supports primary teachers here.
The #microbit Teacher Professional Development courses are designed to take the stress out of your computing responsibilities. 🤗 Find out more about free CPD with Micro:bit Educational Foundation here.
The Micro:bit Educational Foundation are running free webinars and student code-alongs for UK primary teachers who want to use BBC #microbit in the classroom. Find out more and sign up here.