14 December 2021
Swindon Success in The Cotswold Challenge 2021
Students from Swindon schools scooped three of the top prizes in The Cotswold Challenge 2021 which is run by four local business owners. 
The challenge was designed this year, for the second time, to support young people who missed out on taking formal GCSEs and A levels (or equivalents) due to Covid and various lockdowns. Students from Swindon & The Cotswolds were invited to submit entries in three categories – Art & Design, Creative Writing and Enterprise & Innovation. 
Volunteer organisers Fiona Scott, Allison Murray, Chris Roberts and Nigel Chute secured sponsorship and funding from business owners and organisations across Swindon and the Cotswolds.
"We would like to thank everyone who supported this year's Challenge," Fiona Scott, of Swindon-based Scott Media, said. "From our sponsors to our judges and most of all to the young people who took the time to enter and who saw this as an amazing opportunity to showcase their talents to experts in their field – with the possibility of a decent cash prize too!"
Swindon students certainly stepped up with tens of them entering the competition. Ayesha Reeves, who is in Year 13 and attends New College, Swindon, won the Art & Design top prize of £500. Her entry Cocoon elicited high praise from the expert judges. 
Another student from New College also won a cash prize. The third place prize of £150 went to Talia Northam, for her Creative Writing entry entitled Did You See Him? 
A joint third place in the Enterprise & Innovation category went to Ben Lawniczak and Oliwier Zwawiak, who attend Lydiard Park Academy and worked jointly on their project entitled ELS Walking Stick.
Innovation and Entrepreneurial Thinking Category
In the Innovation and Entrepreneurial Thinking Challenge category, students were asked to describe a new idea, product or campaign and were judged by the following criteria:
How different is the innovation/idea/campaign from what's out there already?
How can your innovation be used in life generally and how big an impact could it make?
Who would benefit if the innovation/idea/campaign became a reality?
At Lydiard Park Academy, three lessons were used for the challenge, and conversations continued between lessons. Students were inspired by the local nature of the competition and a focus on their age range. Phil Anley, IT Teacher at the school, said "They are a cohort who certainly deserve the extra opportunity to shine after all that they have had to go through. It may be as a response to that unsettling time that they have marshalled such a determination to prove themselves and what they can do."
Ben and Oliwier used their computing skills to design a walking stick which sends SOS messages to family, friends and emergency services when the walking stick is dropped. The walking stick uses the micro:bit connected to a smartphone via Bluetooth to send the emergency message. They also thought about mitigating accidental calls with a wrist strap on the walking stick and the materials and costs were also considered in the design process.
"One question that arose in our first lesson when discussing the Cotswold Challenge, was to ask who they knew who faced a real difficulty that perhaps technology could overcome. That their focus turned to the elderly and their fear of falling over feels like a fitting focus for this successful submission: there is a real and pressing need to provide such solutions." 
Judges' comments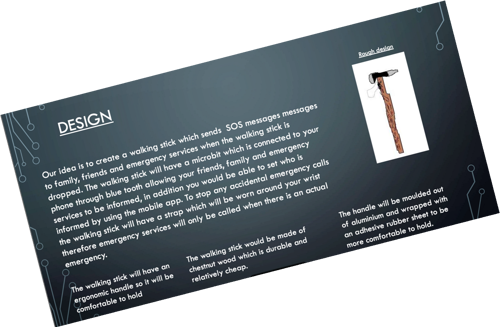 "Good idea well researched and argued. Potential scope for protection (intellectual property) e.g. patents with software functionality & registered designs."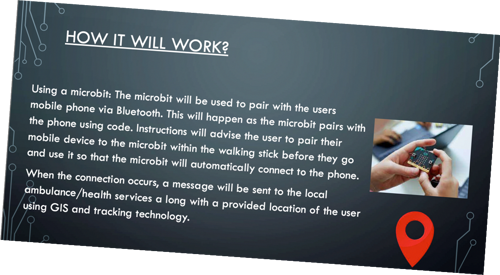 Nigel Chute
"I like the idea of someone who has had a fall automatically contacting the emergency services." 
Verity Manners
"What a lovely but simple idea, aimed at our most vulnerable. This is a well thought our presentation with a lot of detail." 
Caroline Summers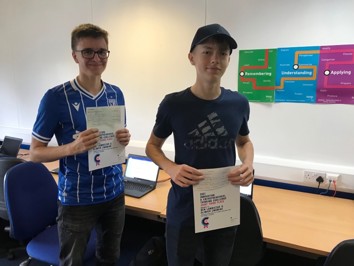 Ben and Oliwier with their certificates and prizes.
To see a full list of winners, entries, judges' comments, judges, sponsors, and participating schools, please visit: www.thecotswoldchallenge.com