Quick Links
See the ...
The CAS Newsletter
With the prospect of all Year 7 pupils receiving a BBC MicroBit in September, this issue takes a timely look at physical computing. Lots of ideas from teachers about different devices and their use in both primary and secondary classrooms. A look too at a new volume of magic tricks from cs4fn to help introduce Computational concepts and much, much more. Click the image to download
---
The CAS Community
When you join CAS you join a community of over 19,000 professionals: teachers, academics, industry professionals, school governors, parents etc.. CAS rely on the many committed professionals who run regional hub meetings, deliver local CPD courses, contribute to the online forum and post their teaching resources to the community site. There is no them - only us!

The CAS community has been instrumental in the development of the new curriculum and are 100% committed to supporting all teachers as they engage with computing, and in particular computer science.
---
Follow us!
Tweets by @CompAtSch
---
Latest News
Teaching Computer Science
---
The Promise of Computational Thinking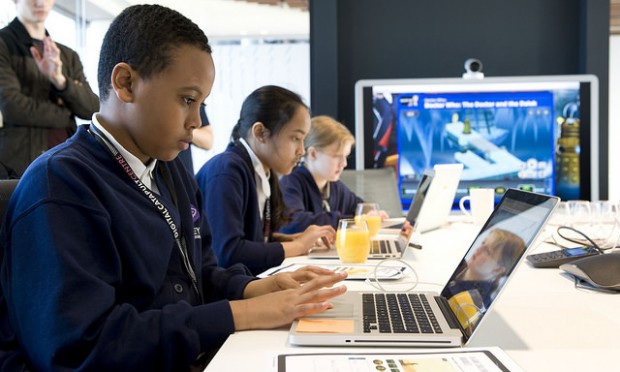 Nine months ago, London hosted the first meeting of D5 - a group of the most digitally advanced countries in the world.
At that meeting, the five founding members (Estonia, Israel, New Zealand, South Korea, and the UK) signed a charter and committed to meeting its 9 principles. One of those principles was "Teach children to code", a promise to offer children the opportunity to learn to code, and build the next generation of skills.
Launch of CAS London
A lively networking-focused meeting was held to officially launch the Computing At School Regional Centre for London (CAS London)on Friday July 10th. CAS London will be coordinated by King's College London and Queen Mary University of London in 2015-2016.
For the last two years, the Department for Education (DfE) have funded CAS to develop the Network of Teaching Excellence in Computer Science; through this CAS have recruited nearly 400 CAS Master Teachers to train and support their peers in preparing to deliver the new Computing curriculum. With renewed funding from the DfE, the Network of Excellence project is now going to be led regionally by 10 university partners, with KCL and QMUL taking responsibility for the London region.
The role of CAS London will be to support existing CAS Master Teachers, CAS Hub Leaders and CAS Lead Schools whilst growing the reach of Computing At School across London. Read More ...
Conference: June 20th, University of Birmingham
A bigger crowd than ever packed into Birmingham University Computer Science building for the 7th Annual CAS Conference. From the many tweets, comments to the facebook page and feedback coming in it would appear that it was another successful day. There were over 40 workshops to choose from and an inspirational kenote for Paul Curzon on computaional thinking and what it really means. One particular highlight were the three teachers (David Challoner, Cathryn Ahmer and Michelle Alexander) who were brave enough to share thheir journey with the new curriculum answering the topic: "It's only been a year but ....". This was so good we've started a thread on the community forum for this too! Do pop over and share your journey.
Follow the unfolding story of the day here (thank you Simon Johnson @clcsimon)
All slides from presenters will be uploaded here.
Quickstart Computing
"QuickStart Computing is an important national programme that will help all computing teachers to confidently plan, teach and assess the new computing curriculum. We value the funding that Microsoft has provided and it's essential that we work in partnership with industry and teacher networks like Computing At School." (Nicky Morgan, Education Secretary)
Computing At School has produced a new resource to help primary and secondary teachers in England get to grips with the new computing curriculum which was introduced in September. Funded by Microsoft and the Department for Education QuickStart Computing is a comprehensive, national programme designed to help primary and secondary teachers to plan, teach and assess this brand new subject. Find out more and download ALL resources
Watch the launch video:
Some feedback from primary school teacher:
"Quickstart has provided a no-nonsense approach to the computing curriculum that has changed the attitude of the teachers to one of "can-do". The well-written guidance has provided the reasurrance that much of what teachers already do (in all the other curriculum areas) supports the thinking required for computing as well giving expert tips and ideas for teaching the knowledge that is specific to computing.
"Since starting with the Quickstart materials only 6 weeks ago, students have quickly become adept at using tools such as Touchdevelop, logo and Scratch and are swiftly catching up with their year group expectations of the new computing curriculum. Demand has become so great that current computing lessons are not enough for some of the students and now a Coding Club is starting this Friday 28th February for those students who want to take computing beyond the requirements of the curriculum."
CAS Wins "Best Practice in Education Award"
In recognition of its initiatives promoting computing in primary and secondary schools, Computing At School (CAS) has won the 2014 Informatics Europe Best Practices in Education Award.
The award is a prestigious recognition of a world-class initiative in computing education and is presented by Informatics Europe, the association of computer science departments and research laboratories in Europe.
Informatics Europe commended Computing At School for its
"outstanding achievements which resulted in computing being officially established as a mandatory subject for primary and high schools in the national curriculum of England".
Computing in the national curriculum: a guide for secondary teachers
This free guidance has been developed by Computing at School to help secondary school teachers get to grips with the new curriculum for computing. The guide demystifies the programme of study and gives easy to follow support for planning, teaching and assessing computing. Printed copies will be arriving in schools towards the end of June (so look out for them!) but please freely share this digital copy with colleagues. We hope you find it useful as you prepare for September!
Click the image to download!
BCS Certificate in Computer Science Teaching
Computing At School offers a unique accreditation for teachers of Computing, providing professional recognition offered and accredited by BCS, the Chartered Institute for IT.
There is now a considerable amount of CPD available to teachers through the Network of Excellence (master teachers and universities offering low-cost training) and other providers. Teachers of Computing who have previously taught ICT are undertaking significant amounts of CPD to ensure that they have the knowledge and skills to teach the new curriculum. It is important to acknowledge and recognise the significant amount of professional development that teachers have been engaged in in order to be able to deliver the new Computing qualifications and the new curriculum. Teachers need professional recognition that they are competent teachers of the the computer science elements of Computing and this certificate provides that.