Quick Links
See the ...
Tweets by @CompAtSch
Latest News
Teaching Computer Science
---
Latest news from the NoE
With support from the DfE CAS are implementing a programme of locally driven support for teachers: 'The Network of Excellence for the Teaching of Computer Science' (NoE).
Get the latest news about the NoE here
To contribute to the next newsletter please contact the NoE Newsletter Editor
The New Curriculum
https://www.youtube.com/user/educationgovuk
The ICT curriculum, now called 'Computing', has been reformed. It now includes a clearly-articulated strand of computer science (including programming) as the underlying subject discipline, alongside the use and application of digital technology. These changes represent a qualitative shift in the subject, not an incremental change.

CAS welcomes the change and believes it is of huge educational and economic importance for all students. [Read more ...]
Related Documents and Articles
The Network of Excellence
CAS are thrilled that the DfE have supported the application made by CAS/BCS to continue and expand the Network of Teaching Excellence in Computer Science (NoE). The heart of the programme is to build a high-quality, sustainable CPD infrastructure at low cost. This will be achieved by nurturing long-term, bottom-up collaboration between employers, universities, professional bodies, schools and teachers.
Our goals are to:
Recruit and train 600 CAS Master Teachers (primary and secondary)
Harness university expertise to lead on training and development of the CAS Master teachers
Maintain comprehensive set of classroom resources for all key stages
Enhance professional status for all Heads of Computing in schools
School Infrastructure
School ICT Infrastructure and how it is managed can be one the biggest impediments in the implementation of Computer Science education. The needs of teachers and learners and the requirements imposed on network managers, whether in-house or outsourced, can be a source of conflict. The sometimes apparently diametrically opposing position of the service provider and their end users has always been there and it applies to the teaching of other subjects not just Computer Science or ICT.
When you join CAS you join a community of over 16,000 professionals. We are teachers, academics, industry professionals, school governors, parents etc.. CAS does not have bright shiny offices with staff. We are reliant on the many committed professionals who run regional hub meetings, deliver local CPD courses, contribute to the online forum and post their teaching resources to the community site. There is no them - only us!

The CAS community has been instrumental in the development of the new curriculum and are 100% committed to supporting all teachers as they engage with computing, and in particular computer science, when the new curriculum is introduced in September 2014.
CAS Wins "Best Practice in Education Award"
In recognition of its initiatives promoting computing in primary and secondary schools, Computing At School (CAS) has won the 2014 Informatics Europe Best Practices in Education Award.
The award is a prestigious recognition of a world-class initiative in computing education and is presented by Informatics Europe, the association of computer science departments and research laboratories in Europe.
Informatics Europe commended Computing At School for its
"outstanding achievements which resulted in computing being officially established as a mandatory subject for primary and high schools in the national curriculum of England".
Computing At School North Leicester Primary hub launch
Jo Badge runs the newly launched North Lecister Primary hub and writes about their first meeting:
We had a wonderful first meeting of the new CAS North Leicester regional hub with 62 attendees. It was fantastic to see people making connections and sharing ideas already.
At least 12 schools were represented, including some of our secondary colleagues and representatives from the University of Leicester School of Education and our current student teachers.
Yvonne Walker gave an introduction to CAS and showed some of the superb resources available for free on their website.
Phil Bagge did an outstanding job of presenting via Skype giving a lively and engaging presentation without the benefit of the obvious engagement of the audience as he couldn't see or hear us from his study at home in Hampshire! The lesson ideas he showed us are available on his website which is a fabulous resource for anyone wanting some well tested lesson plans to get started with the new computing curriculum. He managed to make understanding how Google actually works understandable and showed how it could be taught to children in KS2.
Hopefully attendees will sign up to the CAS community to become members and join in the discussions on our regional forum. Feedback was very positive, although it is clear that we need to make space in future meetings for more time to network with and learn from each other. Another clear request was that for EFYS and KS1 ideas and for teaching the new computing curriculum, so we definitely make sure that these areas are catered for in forthcoming meetings.
I am very much looking forward to strengthen the connections made at the launch between the people that attended at our future meetings.
The next meeting will take place at Rushey Mead Primary School near the February half term. Please remember that these meetings are free to attend and are open to any educators that can get us. They are not restricted to only city or county schools! We also do a good line in biscuits and tea, coffee or fruit juice :-)
Other Hub News
The CAS Newsletter - Autumn 2014
There is something of interest to all CAS members and the wider teaching community. Resources and ideas shared by teachers, both primary and secondary. There is also a section on the Network of Excellence for those new to CAS who aren't familiar with current developments.

Download the latest issue of our newsletter here. The newsletter is produced once a term and is packed with articles and ideas for teaching computer science in the classroom.

As more teachers embrace Computing, we all have ideas to share. No-one has a blueprint for what works best but sharing ideas can help develop a subject specific pedagogy - a key focus of this issue. Good teaching is, above all, a collegiate activity. This issue outlines various ways that CAS can help you,from planning tools to CPD, and from communities of practice to accreditation for your efforts. As always it highlights some of the wonderful tools available, but above all, it carries the insights of many colleagues, up and down the UK, who are starting to 'walk the walk'.

Please do download and circulate as widely as possible. Hard copies should be available at upcoming hub meetings.
Hour of Code - December 8th-12th 2014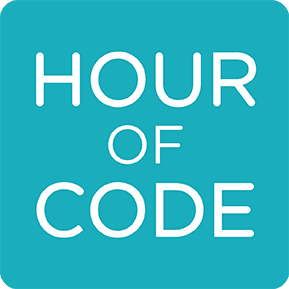 The Hour of Code led by non-profit Code.org allows anyone to try out coding for the first time by teaching the basics of computer programming in just sixty minutes. Over 3 million people in the UK have tried it. We are now running the campaign globally the week of December 8 to 12. We would love if you could join in helping to spread the word and encourage anyone that week to take the one of the tutorials depending on their level. They range from the basics with the first tutorial seeing Facebook's Mark Zuckerberg and Microsoft's Bill Gates teaming up and help learners to program their very own Angry Bird to more complex. They are free, easy and no download is required.
We hope that through an Hour of Code more teachers and students can have the same experience so please help us spread the word and sign up your classes to do an Hour of Code the week of December 8th. We have a rich set of resources to help you should you need them.
Computing in the national curriculum: a guide for secondary teachers
This free guidance has been developed by Computing at School to help secondary school teachers get to grips with the new curriculum for computing. The guide demystifies the programme of study and gives easy to follow support for planning, teaching and assessing computing. Printed copies will be arriving in schools towards the end of June (so look out for them!) but please freely share this digital copy with colleagues. We hope you find it useful as you prepare for September!
Click the image to download!
BCS Certificate in Computer Science Teaching
Computing At School offers a unique accreditation for teachers of Computing, providing professional recognition offered and accredited by BCS, the Chartered Institute for IT.
There is now a considerable amount of CPD available to teachers through the Network of Excellence (master teachers and universities offering low-cost training) and other providers. Teachers of Computing who have previously taught ICT are undertaking significant amounts of CPD to ensure that they have the knowledge and skills to teach the new curriculum. It is important to acknowledge and recognise the significant amount of professional development that teachers have been engaged in in order to be able to deliver the new Computing qualifications and the new curriculum. Teachers need professional recognition that they are competent teachers of the the computer science elements of Computing and this certificate provides that.
QuickStart Computing
In association with:

8th April 2014: With the new Computing curriculum coming into force across UK primary and secondary schools in September, Microsoft and Computing At School (CAS) are joining forces to help teachers inspire a new generation of young people. Backed by a 334,000GBP investment from Microsoft, CAS is holding a series of 'Back to School' training sessions to show teachers how they can take the complexity of Coding and Computer Science and make it engaging to the touch screen generation.
"How do you explain an algorithm to a class of 6 year olds and make it fun? We have a real opportunity here to excite and inspire the next generation of games developers if we get this right. But we need to move fast to bring the curriculum to life and grab the interest of kids in that very first term." (Claire Lotriet, ICT Coordinator, Henwick Primary School)
The 'QuickStart Computing' programme will see Microsoft and CAS create two training courses for teachers; one for primary and one for secondary, together with supporting classroom resources that teachers can use in their first term. Using the CAS hubs, experts including the CAS master teachers will deliver face-face training across the country with 2,500 local events. There will also be more flexible training options via Skype so that all teachers can make the most of the training and resources available.